Online theological courses, accredited degree pathways, through the Institute, and educational services
Founders Ministries, for the Recovery of the Gospel and Reformation of Churches.
Ministry of Pastor and author, John Piper. God is most glorified in us when we are most satisfied in him.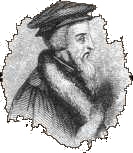 Christian Classics Ethereal Library
Bringing Christian classic books
to life.
Course teach Christians to live in the light of the bible story at the heart level in the context of community on mission to the world.
Self-Paced Proctored Courses
Certificate Programs
Degree Pathway Opportunities
​
John MacArthur-
Author, speaker, president of The Master's University/Seminary, and featured teacher with the GTY
Focusing on mainly Genesis—regarding key issues such as creation, evolution, science, and the age of the earth.
Christian Apologetics & Research Ministry
Dedicated to promotion and defense of the Christian