Internet Bible Study Resources
"Do your best to present yourself to God as one approved a worker who has no need to be ashamed, rightly handling the word of truth." 2 Timothy 2:15
Ministry of Pastor and author, John Piper. God is most glorified in us when we are most satisfied in him.
High quality online theological courses, accredited degree pathways, through the Institute, and educational services to help you grow in your faith and make disciples in the local church.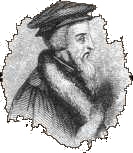 Christian Classics Ethereal Library
Bringing Christian classic books
to life.
John Calvin's
Commentaries
Biblical Training is a non-profit ministry that provides life-changing biblical training from top biblical scholars for the world, for free.
Porterbrook courses teach Christians to live in the light of the bible story at the heart level in the context of community on mission to the world.
Self-Paced Proctored Courses
Certificate Programs
Degree Pathway Opportunities
Justin Taylor, Melissa Kruger, Kevin DeYoung, Don Carson, Scotty Smith, and more....
David Platt, Pastor-Teacher at
McLean Bible Church, President of the Southern Baptist Convention's International Mission Board
Mark Dever, Al Mohler,
Matt Chandler, John Piper,
John MacArthur, CJ Mahaney
and more...
Equips church leaders with a biblical vision and practical resources for displaying God's glory to the nations through healthy churches.
Providing answers to questions about the Bible—particularly the book of Genesis—regarding key issues such as creation, evolution, science, and the age of the earth.
John MacArthur-
Author, speaker, president of The Master's University/Seminary, and featured teacher with the Grace to You media ministry.
Charles Spurgeon's own writings & select volumes from his personal library, complete with annotations, available digitally and free of charge.
Monergism is a free, comprehensive online theological library comprised of Reformed Christian resources designed to bring glory to Jesus Christ alone.
Ministry dedicated to the glory of the Lord Jesus Christ and the promotion and defense of the Christian Gospel, doctrine,
Christian Apologetics &
Research Ministry